Maintenance
Contract Details
You can choose plans according to your needs.
Periodic maintenance and repair can not only make your buildings last longer but also keep operation costs lower. We recommend carrying out planned management from the time a building is newly built or renovated, taking into consideration the lifecycle of your buildings. We offer three basic maintenance plans as follows, and custom plans you can choose according to your needs.
*Details and fees for maintenance contracts could vary according to contract type or conditions of equipment use, so please ask our branch office or sales office in your area.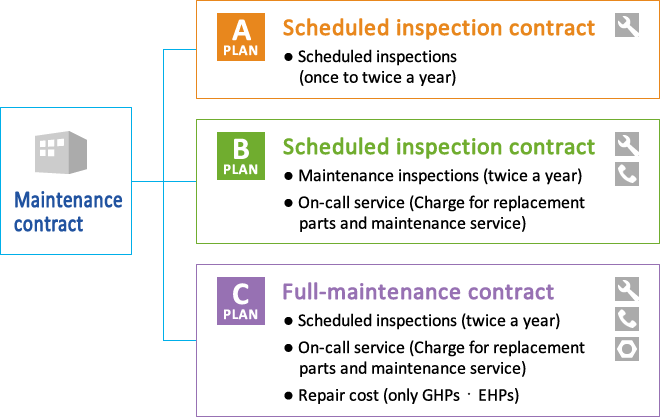 Scheduled inspection contract
We carry out regular inspections annually and suggest a preventive maintenance service. Under this contract, you need to pay the cost of the call service (such as initial inspection fee, cost of replacement parts for equipment and replacement work).
Maintenance and inspection contract
In addition to two scheduled inspections per year, this contract basically covers the cost of call service to address contingent failures (including initial inspection fee). You can choose maintenance items for individual equipment from our "maintenance list" according to your needs and budget.
*Does not cover the cost of replacement parts for equipment or the cost of replacement work.
Full-maintenance contract
Covers expenses incurred for call service and all repair costs in the case of contingent failure. You can put building management and cost management in place according to your plan.
*Only GHPs (gas engine driven heat pumps) and EHPs (electric heat pumps) with a manufacturers' warranty are covered by the contract. Contract conditions vary, for example, according to how long the equipment has been used. Please feel free to ask us for more details.
Advantages of a Maintenance Contract
We keep your buildings healthy so that you can have peace of mind when using your equipment.
Periodic inspections help us grasp the condition of the building and take proper maintenance measures. Failure can be prevented. More efficient and economical management of facilities is possible, and leads to the reduction of operation costs with the life cycle of the building in mind.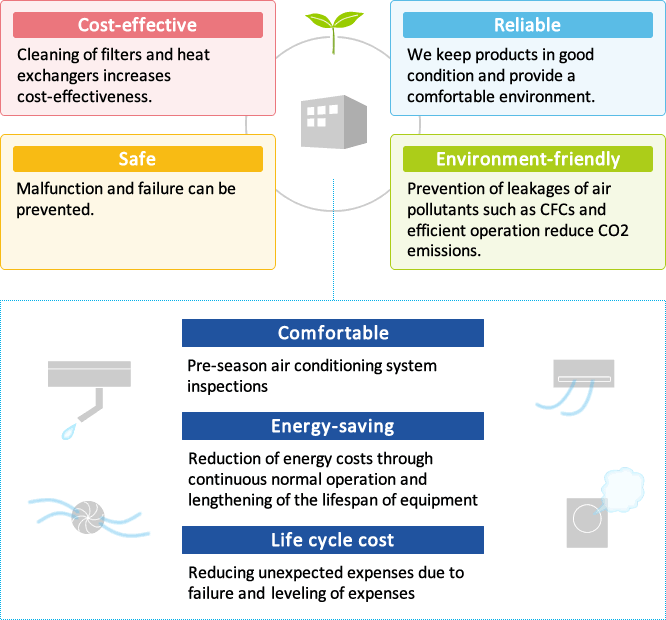 Scheduled maintenance services to meet customers' needs keep air conditioning systems and other equipment in the best possible condition.
We respond preferentially in the case of contingent failure.
Customer Feedback
Mr. Kitagawa, in charge of equipment management, Kanazawa Shinkin Bank
Thank you always. Regardless of whether there is an air conditioning system failure or not, we get regular detailed inspections. Our equipment has worked properly without any major trouble since its installation. Regular filter cleaning seems to contribute to improving its economic efficiency and preventing trouble. We look forward to your continued support.