Solution
Energy Saving Air Conditioning System RiCS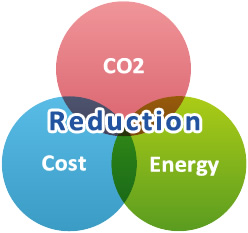 Cost saving / Labour saving / Reduction of CO
2

emissions
We will make proposals according to your needs.

Our systems are highly evaluated by various types of customers, including public facilities, medical facilities, plants and hotels.

Our BEMS systems are used to meet diversified needs such as visualization of demands.

* RiCS is the registered trademark of Ryoki Kogyo Co., Ltd.

Awarded the 21st Technical Promotion Prize (Technical Prize) by Society of Heating, Air Conditioning and Sanitary Engineers of Japan (SHASE).

Our system was registered as a New Technical Information System (NETIS).